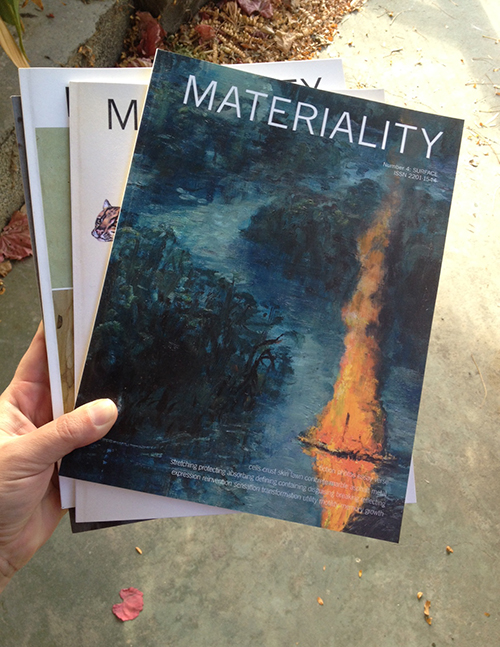 BUY BUY BUY
sale
Materiality: SURFACE
Materiality is CRANK's morally superior sister publication, also by pinknantucket press. SURFACE looks at some of the materials that help define the edges of the world around us.
In this issue Tim Sterne examines why binding books with human skin fills us with such repulsion (No dust jacket required). Geologist and museum collection manager Dermot Henry reveals the amazing origins of the button-shaped glass rocks found scattered throughout south-east Asia in Surface impact. Painting conservator John Payne muses on gilt surfaces past and present, in All that glisters is not gold. Mike Lynch interviews an electroplater about their craft, and Sarah Caldwell delves into the materials and techniques of Melbourne artist Theo Strasser, whose works are renowed for their texture and layered surfaces. Plus you will find pieces about chenille, asphalt, bread, a concrete monster, and learn why (sadly) insects can only grow so big.
Contributors to this issue include Sarah Caldwell, Leonie Connellan, Carolyn Fraser, Gary Fry, Rod Gray, Em Hart, Liam Hogan, Angie Holst, Dermot Henry, Chris Lassig, Mike Lynch, Dani Measday, John Payne, Deborah Pickett, Anna Ryan-Punch, Harry Saddler, Tim Sterne, Isi Unikowski, Zoe Vogels, Amy Williamson, and Kelly Williamson. The fabulous cover art work is by Rod Gray.